Kaja Clothing creates gorgeous Scandi-style clothes for Australian women.  IDA Connect saves time and reduces administration costs, saving Kaja Clothing tens of thousands of dollars per year.  With IDA Connect automation, Kaja's owner Helen can spend her time designing beautiful collections and growing her business. 
The Story of Kaja Clothing
Slow fashion is Helen's passion.  Born in Sweden, but now living on Sydney's beautiful Northern Beaches, Helen has loved fashion for as long as she can remember.  She fulfilled a lifelong dream when she launched Kaja Clothing in 2013.
Kaja Clothing is built on the Swedish concept of 'less is more' with Scandi-style designs that are laidback, timeless and sophisticated.  Their use of quality fabrics and relaxed cuts appeals to women of all shapes and ages.  
Within a year of launching, Kaja had built a following of loyal fans.  Helen found herself running a successful brand with hundreds of orders per month.  It wasn't long before Australia's best boutique outlets started to take notice as well.  Within two years, more than 700 wholesale customers were purchasing Kaja collections for their stores.  The brand was going from strength to strength. 
Then came dropshipping.  In 2015, Kaja Clothing listed their products on The Iconic and Hard to Find.  This provided fabulous brand exposure and further increased sales.  Order volumes were soon averaging 300 per month on The Iconic alone. 
The Price of Success
Helen had thousands of loyal fans, a large network of bricks-and-mortar stockists, her own online store and healthy sales volume on The Iconic and Hard to Find.  But the day-to-day management of so many orders was becoming a headache.  Instead of growing her brand she was dealing with order errors and juggling logistics every day of the week.  
It was hard to find the time – and the headspace – to do what she loved: create beautiful clothes.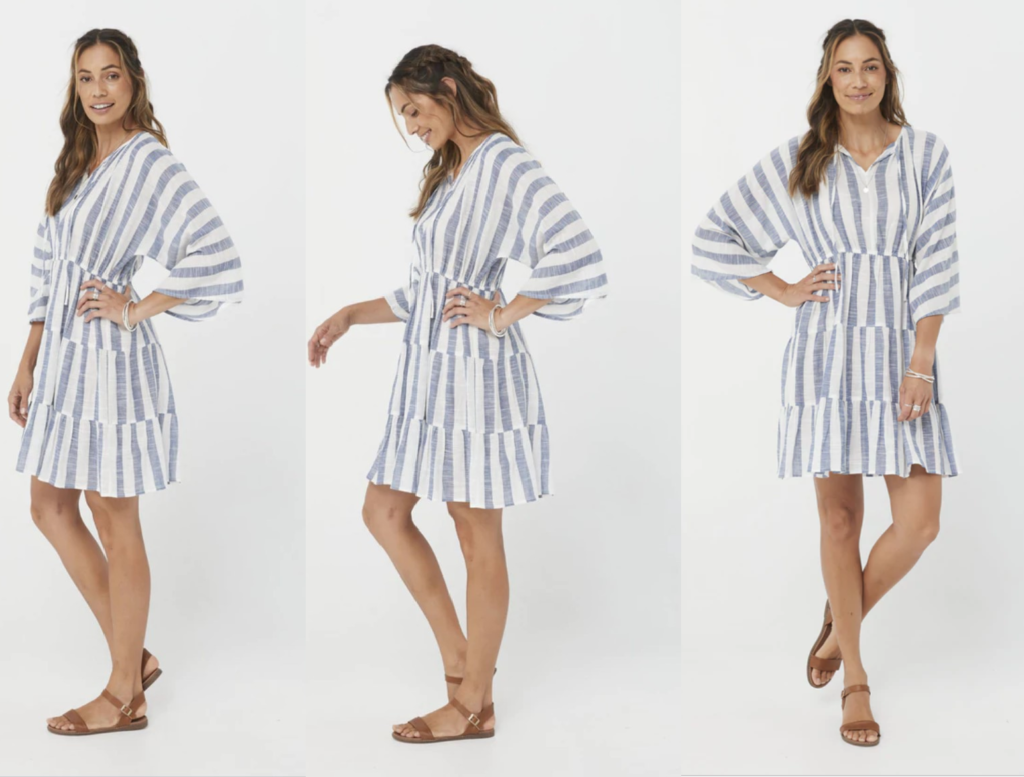 Kaja Clothing hired an admin manager to keep stock levels and fulfilment statuses correct across the sales channels.  It soon became a full time job.  Every morning and every afternoon, the admin manager would export order and inventory information from Shopify into a spreadsheet, clean up the data then manually uploaded the files into The Iconic Seller Center and Hard to Find.  The work was slow, tedious and -in a busy office – it was easy to make mistakes. 
Errors in the manual process resulted in oversells and delayed fulfilment of orders in Kaja's various marketplaces.  At the time, The Iconic would penalise sellers for fulfilment mistakes by switching off their listings for two weeks.  A single mistake could cost two weeks of lost sales: thousands of dollars' worth of orders that would never be placed. 
With the manual process, there was an ever-present risk of oversells.  To avoid being penalised, Kaja's admin manager would manually adjust inventory levels for each SKU for The Iconic and Hard to Find, making sure there was always enough to cover any orders.  This came at a terrible price, however: during sales, The Iconic would frequently show Kaja's best-selling items as out of stock, even though they actually had stock in their warehouse.  The lost opportunities were heart-breaking. 
At busy times, the admin manager would sometimes forget to manually upload the spreadsheet to one of the sales channels, resulting in a delayed fulfilment penalty for Kaja Clothing. 
The frustration, the errors, the penalties and the cost of lost sales started to take their toll on Helen and her team.  
There had to be a better way. 
Why Kaja Clothing Chose IDA Connect
The team at Kaja Clothing went looking for a solution to the manual process.  They were using Shopify as their master inventory and order manager so the first place they looked was the Shopify App Store. 
The app store didn't have the integrations they needed. 
Next, Kaja went looking for a custom solution.  They searched for an IT expert who could use marketplace api to build an automated connection between their store and the sales channel.  Unfortunately, custom integration is very expensive. 
A custom integration solution could potentially have saved Kaja Clothing thousands on administration costs and wages. However, none of the developers they spoke to was confident about delivering a properly integrated solution.  And none understood fashion e-commerce. 
Just when it seemed like it would be impossible to synchronise their orders and inventory, a friend introduced Helen to Brad at IDA Connect. 
IDA Connect costs just a fraction of the price of custom integration.  Brad's history with online fashion retailing meant Helen could trust IDA Connect to handle the challenges of e-commerce and dropshipping.
How IDA Connect Took the Pressure Off
Within days of hearing about IDA Connect, Helen's stores were connected. 
It was a simple process to connected Kaja Clothing's master Shopify store to The Iconic and Hard to Find.  IDA Connect began syncing orders and stock levels straight away. Suddenly, processes that had taken hours every day were being handled by IDA Connect's smart integration, which ran quietly in the background. 
With no more copying and pasting, exporting and uploading, adjusting and cleaning data twice per day, Helen and her team found they had time to focus on building their brand and relationships.
Helen reassigned her admin manager to fill an open position in Kaja Clothing's wholesale operations, saving tens of thousands of dollars in new hiring costs.  
The Results
Fulfilment errors and oversells are a thing of the past for Kaja Clothing.  All their available stock can now be listed on sales channels like The Iconic without fear of accidentally selling the same item twice.  This maximises the sales opportunities on a per-SKU basis. 
Fulfilment status update delays are a thing of the past, meaning the cost of penalties is way down.  They are no longer fined for inventory-count related errors on their marketplaces. 
Kaja's team members spend their days adding value to the wholesale network, building relationships and helping their customers, instead of wrangling spreadsheets. 
And Helen?  
Helen can do what she loves best:
Designing gorgeous Scandinavian-inspired clothes for Aussie women. 
Let IDA Connect Help You Find More Time
If you are tired of uploading inventory all day, let IDA Connect end your frustration. 
Say goodbye to spreadsheets, reduce errors, cut staff overheads.  
Free yourself and your team to do the things that matter: 
Download the IDA Connect Guide and see how you can get connected in just 5 minutes.